---
Author's Disclaimer: Evercast has been a sponsor of the Optimize Yourself program since July of 2020. But Evercast is not a sponsor because they are paying me for publicity or exposure…Evercast is a sponsor because I begged them to become a supporter of my movement to prioritize health & well-being in Hollywood. I.e. This is not a paid review. When I saw an early demo of this software by Hollywood mega-editor Roger Barton, ACE in Summer of 2019, I knew it was going to change the game for creative professionals like me who prioritize work-life balance (and sanity) above getting the job done, no matter the cost. Just short of two years later, I stand by that prediction.
I was an early adopter using Evercast to collaborate remotely as early as September 2019 while cutting Cobra Kai season 3, well before any of us could have predicted the impending doom of the pandemic and the demise of in-person collaboration. At the time Evercast was in its infancy (an early build of version 2). The idea was there, and it was more than usable as a streaming collaboration platform in a pinch while I worked remotely with producers & directors on set in Atlanta. But admittedly there were latency issues, lagging, and the interface was a struggle for non-tech savvy producers to adopt pre-pandemic before we were all used to living on video chats all day long. To be perfectly honest it had tremendous promise, but it wasn't quite ready for primetime.
This extensive Evercast review is frankly a long-time coming for that specific reason – I wanted to wait until Evercast had not only been through the ringer and was ready for game time but also had addressed many of the issues it experienced as an early startup. Let's just say my hesitations experienced with the version 2 build have been addressed (and then some). Since the pandemic Evercast has experienced over 1400% growth, and that growth is not just evident on their balance sheets – it's clear they've invested a tremendous amount of time, energy, and attention to their product with their focus not only on the present of remote collaboration but more importantly on the future.
The latest release of Evercast that debuted in early February 2021 is a completely rethought and redesigned experience from the ground up that firmly puts Evercast in the position of becoming "The Zoom For Creatives."
Which brings me to the giant elephant in the room → Why would anyone spend extra money on a program like Evercast when Zoom is practically free?
In this review I will discuss the many new features of the latest Evercast release that make it worth the investment. I will also argue that comparing Evercast to Zoom when it comes to remote collaboration is like writing a review comparing your daily commute using public transportation versus taking a Tesla – they both get you to your destination, but boy oh boy are they different experiences.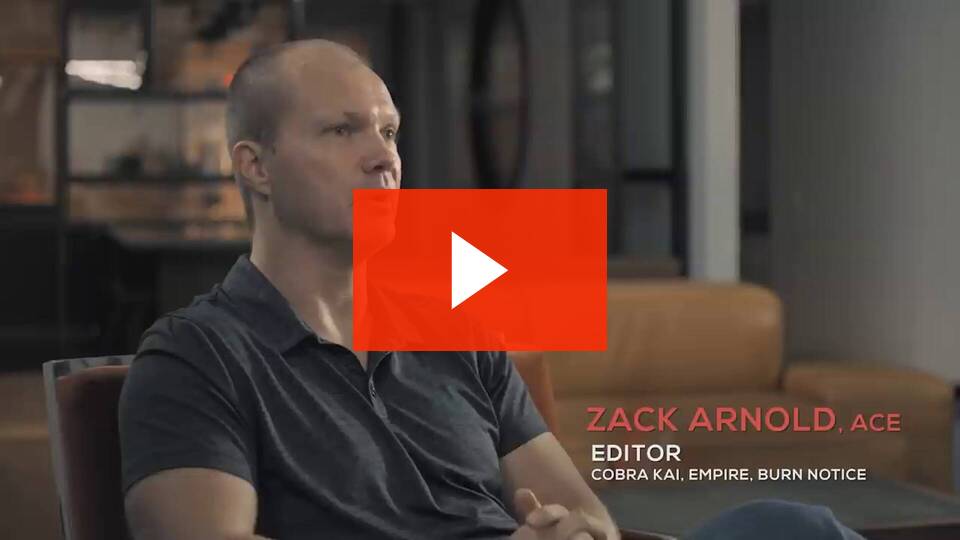 Evercast Receives 2020 Engineering Emmy® Award | Evercast
Real-Time Collaboration Is Still the Wild West
Just about a year into our new world of remote collaboration, we're all still figuring this process out so we can keep the trains running on time from our kitchen tables (and avoiding having to wear pants ever again). There are no "industry standards" yet for remote collaboration tools. Many companies in addition to Evercast are working to figure those out, including Sohonet, Frame.io, BeBop Technology, Jump Desktop, and more. Having written about several other forms of remote collaboration and communication in the past (including for several of Evercast's competitors), I don't intend to dive deep into all the intricacies of working remotely and comparing all the various services and their unique features.
Click below for my other articles and interviews related to remote collaboration and communication workflows.
In this article I simply intend to highlight the latest Evercast feature updates that I believe make it the obvious choice over simpler & cheaper solutions like Zoom.
Onboarding & Setup
The winner: Evercast (by a mile)
In my Optimizer coaching & mentorship program I manage fifteen different Zoom rooms, meeting links, and multiple coaches. I've even taught an entire LinkedIn Learning course on How to Lead Effective & Engaging Calls with Zoom. My point being, I love Zoom and have built my entire business around it. I have nothing against Zoom – but when given the option, I wouldn't choose it for real-time collaboration as a film & television editor.
Furthermore, let's just say I've been through the ringer with setting up and customizing Zoom to suit my remote collaboration needs…and the onboarding process was a NIGHTMARE. I spent hours learning how to set up rooms, enable the right security permissions for those rooms, and customize each room to my needs. You frankly need an advanced engineering degree to manage Zoom's preferences (anyone who's hosted a Zoom meeting feels my pain). And if you need any kind of real-life support? Good luck! At best you'll wait 30 minutes for a chatbot. At worst I've waited for over 30 days via email support to get important questions answered and have my problems addressed.
With Evercast you get white glove concierge service from minute one. If you're even remotely (pun intended) concerned about not understanding the tech side of things, you have nothing to fear when dealing with Evercast setup.
First and foremost, every new Evercast customer gets a 1-hr personal onboarding call to ensure you know how to navigate the interface, install the proper streaming software with the right specs & settings, and ultimately walk your clients through the (insanely simple) process of connecting to your "room" so you can collaborate live.
Secondly, not only will you be walked through by an expert well-versed in Evercast, that expert is first and foremost a "creative" just like you and me. I personally am afraid of the tech side of being an editor – I just want to tell stories. Evercast gets that, which is why you will most likely be onboarded and introduced to every facet of the program by none other than editor David Zimmerman (yes, that Zimmerman family) who understands the needs of editors, assistant editors, and creatives. In short, you won't get lost trying to keep up with the technical jargon of an engineer or customer support specialist – you'll be guided through the process by someone who speaks our language.
Lastly, when you do need customer support, their response time is incredibly fast. When walking through their simple setup wizard I ran into two minor technical snags that if not addressed could have meant hours of wasted time during the setup process waiting for a response. The first instance took them 7 minutes to resolve, and the second instance took 13 minutes. I can only imagine the hours I would have wasted running into similar technical issues with Zoom setup.
Video Conferencing
The winner: Zoom (by less than you'd think)
Let's not beat around the bush: Zoom is the best video conferencing platform on the planet. I'm not going to blow smoke and pretend that Evercast is a better video conferencing platform than Zoom because it's not. But with their latest release, they are definitely competitive.
I don't have to tell you at this point the features and functionality that Zoom offers, we all live and breathe our lives on Zoom all day long. However, Evercast has implemented a host of videoconferencing features in their newest version that not even Zoom can offer, including:
The ability to use an audio mixer to balance the volume of your stream vs the volume of your participants (e.g. if you want to lower the sound of your participants so you can focus on the output, or vice versa)
The ability to mix the volume levels for each individual participant (in case members of the call are either too loud or soft)
The ability to hide participant thumbnails and reduce the processing load on your local CPU by up to 75%, thus massively improving the quality of your call performance as well as your streaming output
For participants, the ability to lower the bandwidth of their camera so as to save bandwidth for a higher quality stream on their end
In short, if you intend to invest in Evercast simply for video conferencing, why would you? That's what Zoom is for. But clearly you're looking at Evercast because you need to stream a live signal from your box to someone else's lap and collaborate as if they're sitting on the couch right behind you.
Real-Time Streaming (and Security)
The winner: Evercast
Live-streaming is literally what Evercast was built for – The tech is built for creatives who want to collaborate with people all over the world and share their work real-time with incredibly low latency (under 150ms) and never having to wait to review uploads & downloads. When streaming via EBS at the highest quality settings (assuming everyone has a solid internet connection), the video feed quality is comparable to watching a high quality H.264 trailer file at Apple Trailers. This quality is absolutely paramount when discussing visual effects, something I would never want to trust to Zoom.
Yes, I'm well aware Zoom can be used to screen share and stream whatever video file or NLE is on your desktop…but boy is it messy. There is no guarantee of maintaining sync, the latency and lag are spotty at best, and worst of all when sharing live video (and without extensive amounts of jerryrigging and multiple hacks), there are no simple ways to send a high quality breakout box signal directly into Zoom as a video feed (as opposed to screen sharing). Even worse, if you must share your screen like most people are doing right now, if you have anything on your screen you shouldn't be sharing (we've all been there), with Zoom it's just too easy to make a mistake and broadcast your desktop to everyone on the call. With Evercast all you need is EBS to manage screen sharing, multiple breakout boxes, and any NLE software in one simple interface.
If I'm cutting a high quality show at the studio level, the next layer on top of stream quality is security.
I have two words for you: Zoom. Bombing. Yeah, enough said.
There is NO WAY I feel comfortable streaming highly sensitive material via Zoom with a regular personal account knowing that just about anyone can hack into that call if they get a hold of a Zoom link..and I'm on the hook if something goes wrong. Yes, Zoom does now offer higher security business accounts, and their waiting room feature has been a significant improvement since their blunders during the early days of the pandemic, but having that higher security account means you're paying significantly more money for the exact same functionality. If you're going to pay the money, why not have all the additional collaboration features that come with that investment?
Collaboration Features
The winner: Evercast (it's not even a competition)
When discussing streaming, latency, and quality, Zoom and Evercast are in the same conversation, and depending on who you talk to and their needs, it's a very competitive one. Once we get beyond the tech of streaming and begin discussing collaboration, however, Evercast is in a class of its own. And I say that having reviewed top-notch tech hardware like the Clearview Flex.
You simply will not have a better collaboration experience than using Evercast.
Here is a short list (with so much more coming soon) of the features available that make Evercast the Tesla of remote collaboration:
You can record your entire session and link the chat and notes functionality to that live stream so you have a running record of every single note given in the session with timestamps
You can then subclip that recording session and share just those sections with the appropriate collaborators (for example sending a notes session about music to your composers, or a quick portion of your session about deliverables to your producing team). Note: This functionality is in beta and coming soon.
There is no need to purchase any proprietary hardware or breakout boxes. From visiting the Evercast home page to setting up an account, you can be streaming a live session with a client in about 30 minutes.
You can draw and annotate on the screen (which Zoom can do as well), but you have much finer controls over colors, shapes, and the size of your brush, all of which are vital when discussing the finer details of visual effects
Unlike Zoom, you have an immense amount of control over the bandwidth used for your calls and the quality of your video stream, thus being able to accommodate just about any client, no matter their device or the (crappy) quality of their internet connection
Unlike Zoom, you have the ability to manage and delete comments in the chat roll (in case someone in the room says something unfavorable about a team member, you have the ability to remove that comment…or the entire chat roll…before that new team member enters the room)
While this feature is in early beta, you will be able to stream directly from your system directly to anyone's iOS device or right to their living room via their Apple TV app.
Which do you think a producer or director would prefer?
Another late-night streaming session on Zoom with their laptop in hand
Another late-night streaming session with their legs kicked up in their favorite recliner with a bowl of popcorn in their lap watching their gorgeous 80" LED 4k TV in the comfort of their living room via Apple TV?
Yeah, that's what I thought.
For Real-Time Creative Collaboration, The Winner Is Clear
If you value a high-quality, low latency, and low anxiety collaborative experience in our post-pandemic reality, there's no question in my mind that Evercast is the best choice. Yes, Zoom is at the point where it's absolutely functional for not only video conferencing but also screen sharing your desktop and collaborating live with your NLE of choice (if you're willing to sacrifice the quality of your stream and deal with latency issues). Both Zoom and Evercast are capable of getting you from point A to point B.
If all you have the budget for is taking public transportation to work every day, you get what you pay for and you suffer through the experience.
But if you have the budget, why in the world would you commute every day using the metro when you can drive to work in style in your own Tesla?
In my opinion, Evercast is the Tesla of real-time remote collaboration tools and is ready for prime time.
→ Click here for a free real-time demo of the new Evercast in action